Central Park
Just steps from icon, Columbus Circle is your point of entry to one of New York's most coveted amenities - Central Park. Explore the park's 843 acres (341 ha) of paths, plazas, gardens and greenery, lakes, art and architecture. The park features a variety of sports fields, dining options, and seasonal events - such as free opera and Shakespeare in the great outdoors.
Sheep Meadow
The nearby sprawling green lawn of the Sheep Meadow is a Central Park highlight. Here, visitors sunbathe, picnic, fly kites within a pastoral escape - free from the hustle and bustle of New York City, with one of the best views of Manhattan's famous skyline.
Central Park Mall (Literary Walk)
The Mall (Literary Walk) is Central Park's most important horticultural feature, and one of the largest and last remaining stands of American Elm trees in North America. A quadruple row of American elms form a cathedral-like canopy above the Park's widest pedestrian pathway. This quarter-mile pedestrian path is the only intentional straight line inside the park's walls.
Jogging Paths
The famous New York Marathon has its final miles in Central Park every year and it's easy to understand why: the park, with a variety of terrain and excellent scenery, it is the ultimate runner's dream. With its many paths that range in level of difficulty, Central Park allows a runner to experience clarity and freedom in this picturesque urban oasis.
Bethesda Fountain and Terrace
The Bethesda Fountain rises above Bethesda Terrace within Central Park, with the famous Angel of the Waters statue atop. The statue and fountain commemorate the creation of the Croton water system, which first brought fresh water to New York City in 1842.
Bow Bridge
The Bow Bridge in Central Park is the second oldest cast-iron bridge in America. It was named for its graceful shape, reminiscent of the bow of an archer or violinist. This handsomely designed low-lying bridge spans a lake, and is one of New York's most romantic settings.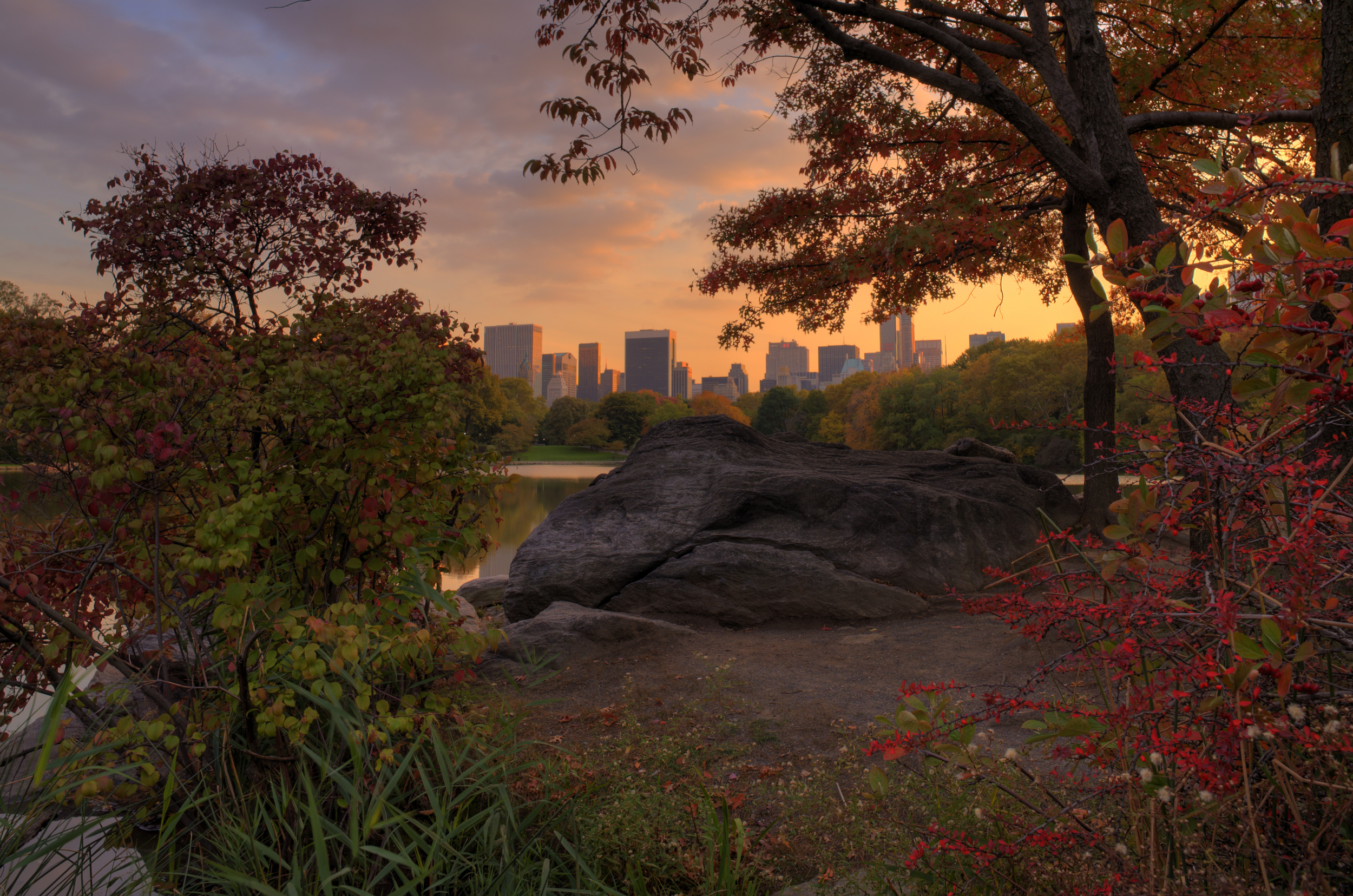 Central Park Sunset
Nothing epitomizes the romance of New York like Central Park's sprawling meadows, winding paths, and shimmering waters. And there's no better time to experience the park than at sunset.
Wollman Rink
Wollman Rink in Central Park is open for ice skating from October to April. In the summer months is transformed into a venue for other purposes, such as concerts, carnivals and fairs.
Columbus Circle
Columbus Circle is the public plaza and traffic circle from which all official distances from New York City are measured. It is presided over by a statue of Christopher Columbus and surrounded by a gracefully lit performing fountain.
Bryant Park
Bryant Park is a public park with a sprawling green lawn, terraced gardens, cafes and kiosks. Free outdoor fitness classes, chess and ping pong tables, film and sporting event screenings are among the many amenities offered in the park. The stately New York Public Library building forms the Eastern boundary of this midtown treasure.
Parks and Green Spaces
Residents of icon's luxury rental apartments in Midtown Manhattan have access to a wide array of parks and green spaces, such as Central Park, Bryant Park, and the Hudson River Park.