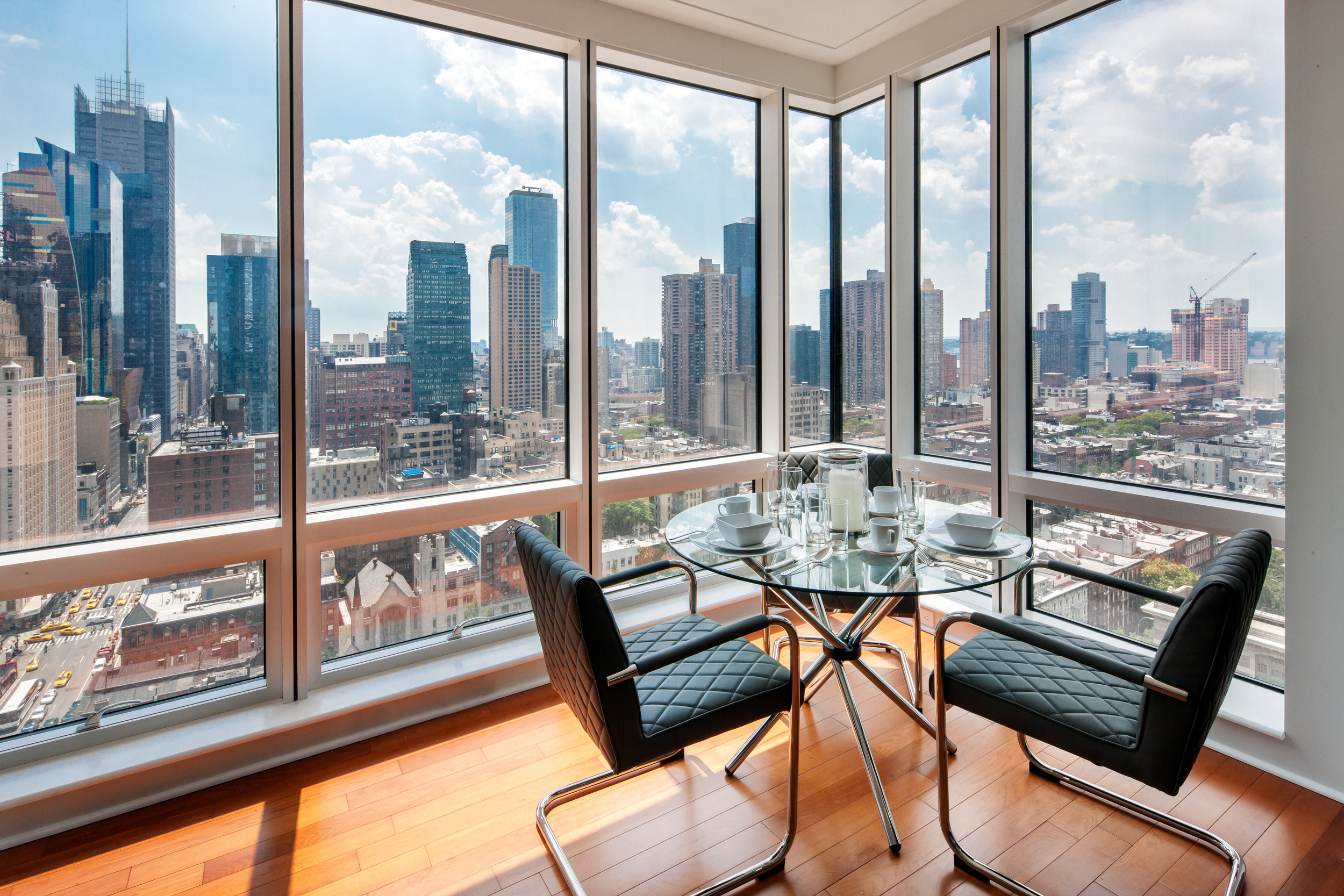 Glass-Walled Retreats In the Sky
icon's floor-to-ceiling windows and wall-to-wall glass afford spectacular views of the Midtown Manhattan skyline and Hudson River. At a height unrivaled by nearby buildings, icon's views are unobstructed by surrounding buildings.
The Luxury of Privacy
Residents of icon enjoy a luxury uncommon in the other Midtown luxury rentals - the luxury of privacy. With only three apartments per floor, icon is truly unrivaled by the beehive rental homes typical of this neighborhood.
Generous Room Dimensions
Residences at icon are designed to maximize your personal living space. High ceilings, generous room dimensions and open plan layouts make for airy, private enclaves bounded by nothing but sky.
Solid Construction and Letterbox Views
icon's apartment interiors were meticulously designed to compete with the high-end finishes of New York City luxury condo homes. Solid wood floors, thick concrete walls, and integrated zone-specific climate control - luxuries uncommon in many Manhattan apartments - are standard at icon. The width of your television will no longer matter once set against the backdrop of the New York City skyline.
Heavenly Kitchens in HK
Stories above the streets of Hell's Kitchen, you'll be in heaven in yours. Modern appliances, durable faucet fixtures, marble countertops and vented range hoods are just a few of the top-notch details that make cooking and entertaining at icon a joy.
Sleep Soundly In the Clouds
icon's uncommon height and quality construction techniques ensure a quiet night's sleep amidst the hustle and bustle of New York City. High above the city streets, double-paned windows block street noise below. Whereas many rental apartments in New York utilize cheap, through-the-wall PTAC climate control systems, icon utilizes a soundproof high-rise heating and cooling system.
Luxurious Baths
Whether preparing for a night on the town or relaxing after a hard day's work, icon's deep soaking tubs, durable Kohler faucet fixtures, wall-to-wall mirrors and marble countertops offer residents a truly luxurious bath experience.
A Breath of Fresh Air
Glass-walled outdoor balconies at icon offer residents a breath of fresh air. More than half of the apartments at icon feature these extensions of your personal living space. And all residents have access to a landscaped roof deck on the 44th floor, offering spectacular views rivaled by few buildings in New York.
Split Studio Lofts
In addition to standard one-, two- and three-bedroom options, icon offers a unique, one-of-a-kind Split Studio Loft layout. These double-height residences offer an alcove sleeping area separated from the rest of the living space. Architects meticulously designed these lofts to maintain the flow of light throughout the living space, providing total floor space of a one-bedroom apartment without the separation of a wall.
Interiors
Apartment interiors at icon are uncommonly luxurious. Floor-to-ceiling windows, hardwood floors, washer / dryer, integrated climate control, modern kitchen appliances, deluxe baths and outdoor space are all standard in these Midtown West luxury rental apartments.